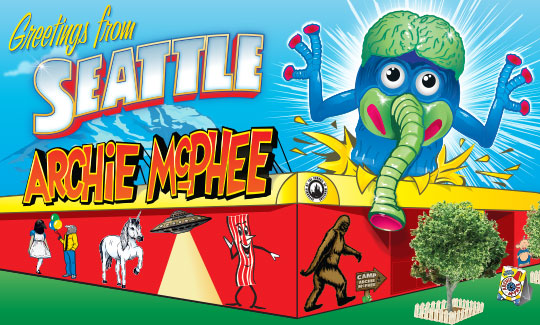 Open for in-store shopping everyday 11 AM – 6 PM!
Masks are required for entry and must be worn while shopping.
We are following all Washington state safety protocols.
Curbside pickup is available on request. Call (206) 297-0240 to place your order.–>
Deliveries now available!
Named one of the "Top Ten Independent Toy Stores" by USA Today!
Archie McPhee has been supplying gifts and toys to Seattle since 1983. Located in Seattle's Wallingford neighborhood, it's a one stop shop for party supplies, crafts, costumes, miniatures and the weirdest collection of toys and candy that you've ever seen.
Widely considered to be a Mecca for connoisseurs of the strange and one of Seattle's top ten weird destinations, it is truly an attraction without a parallel.